For a surface system to achieve its maximum capacity, it must be finished with materials of the lowest thermal resistance. It is assumed that the thermal resistance, R, determined for the binder and cladding, should not be higher than R = 0,15 m2K/W. The best finishing material for an underfloor system is ceramic or stone.
The table below summarises examples of indicative thermal resistance values for various flooring materials: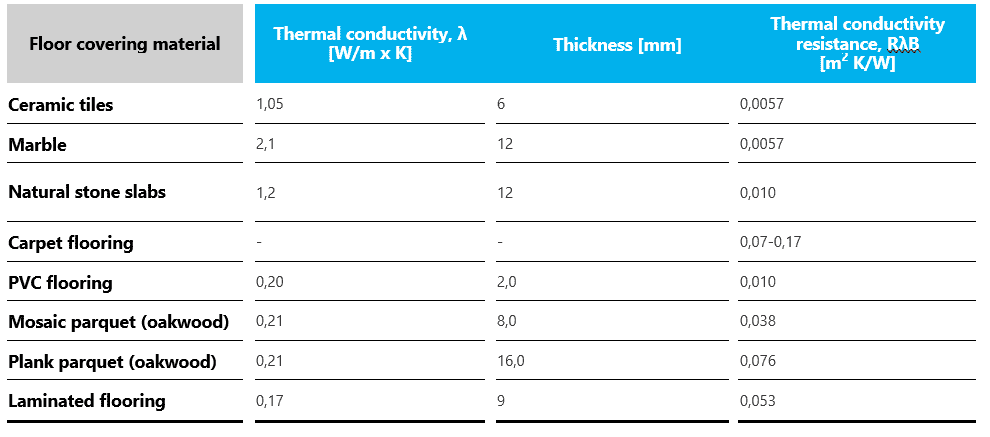 The design of a surface heating/cooling system, especially an underfloor one, must consider the type of lining on the floor, as this layer determines the heat transfer to the room and affects the floor surface temperature and the heating or cooling capacity.
All linings as well as the materials used for finishing active heating/cooling surfaces, in particular heating surfaces, must display official markings of approval for use with surface heating/cooling systems. Examples of the approval markings are shown below: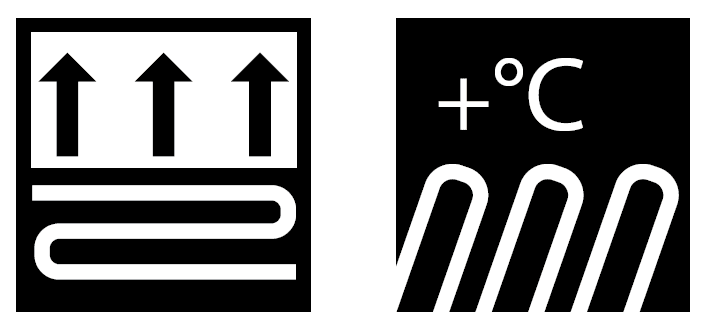 Wooden lining requires particular caution. The moisture content of a parquet or a mosaic wooden floor must not exceed 8-9% during its installation. In this case it is also important to know the maximum possible temperature of the surface on which the wooden lining will be installed. It is recommended that the surface is maintained at no more than 29°C, but it is best to consult the lining manufacturer for the conditions of use. Wooden floor lining is not recommended near the so-called boundary zones where the surface temperature limits recommended for the lining can be exceeded.