We have been counting the months, weeks, days, hours and here it is - the date we have been waiting for a long time.
On September 6, 2022, the SHK Essen International Trade Fair begins after a two-year break caused by the COVID-19 pandemic. This is one of the most important events in the HVAC industry calendar. It is a specific area which provides an amazing opportunity to present a number of innovative solutions and products for the 21st century, and share experiences. Therefore, it is not surprising that KAN-therm GmbH is among the exhibitors in the next edition of this event




Hundreds of exhibitors, thousands of inspirations
Over five hundred companies, representing both the local and international market, are taking part in the upcoming edition of the event. This time, the greatest emphasis is placed on products related to ventilation and air-conditioning systems (which is extremely important from the point of view of environmental protection) but also on solutions in the field of energy-saving heating technology and renewable energy sources. What is another benefit of the fair? A number of accompanying events will be held at the same time. Participants will be able to take part in presentations, discussion panels and thematic events. Each of them has a common factor - their task is to provide participants with reliable and substantive knowledge about the presented products.
KAN-therm GmbH is pleased to present a new range of products. Among others, SYSTEM KAN-therm ultraLINE and our new stainless steel manifolds from the InoxFlow line. KAN-therm GmbH experts will be available for the participants of this event and will answer any bothering questions related to the presented solutions. We cordially invite you!
The fair is held on September 6-9, 2022. KAN-therm GmbH is in hall 1.0, stand 1C11. Visit us September 6-8, from 09:00 a.m. to 6:00 p.m. and September 9, from 09.00 a.m. to 4.00 p.m.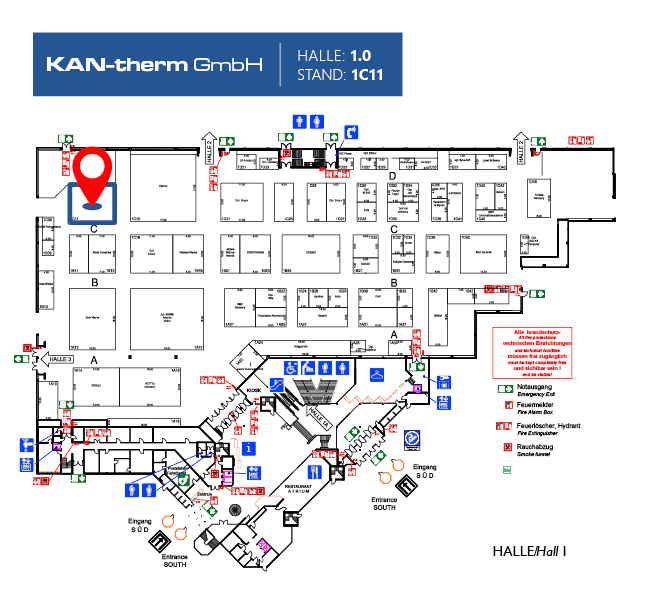 More information about the event on the Organizer's website. Get Tickets for the event and meet us there!