A surface heating/cooling system can be installed with a wet or dry embedding method. The wet methods are recommended for masonry partitions. The dry methods are recommended for light, timber structures (like stud walls) or for indoor renovation projects.
The European standard EN 1264 classifies three basic structures of surface radiators: A, B and C.
In a Type A structure, the heating/cooling pipes are placed directly on thermal insulation or separated from it with a layer of screed. For this structure type, there are three sub-types which depend on the distance between the system piping and the thermal insulation: A1 – pipes fastened 0 mm to 5 mm from the insulation; A2 – pipes fastened 5 mm to 15 mm from the insulation; and A3 – pipes fastened more than 15 mm from the insulation. The Type A surface heater structure is executed with wet installation methods only.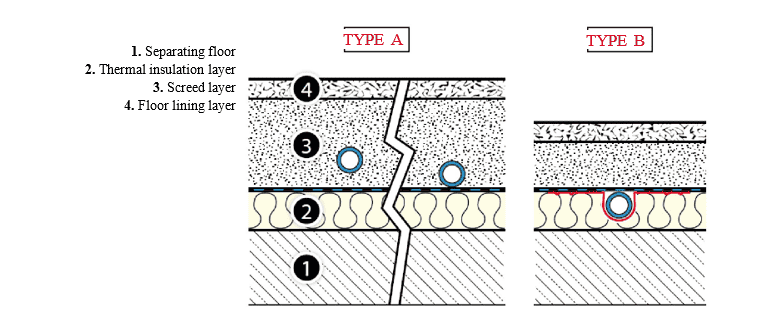 Type B structures involve the installation of heating or cooling system pipes within the top part of thermal insulation. A radiator with this structure can be installed with a dry embedding method where the traditional, cast-in-place screed can be replaced with dedicated, prefabricated panels (dry underlay panels).
Type C construction, which is the least popular in practice, provides for installation of heating/cooling pipes in a layer of levelling screed above which there is a separating layer, like a double layer of PE film, followed by another layer of screed (cast in place or in dry panels).