Everybody knows that working up a new market is a hard and demanding work. KAN is a mobile company and keen to explore difficulties.
Nowadays we are working at the development of a distribution network in the Middle East and we are ready to present you some great news and invite you to attend the CIBSE UAE Annual Awards Ceremony, which takes place September, 8th at The Armani Hotel, Burj Khalifa in Dubai, UAE, 6 PM onwards together with us.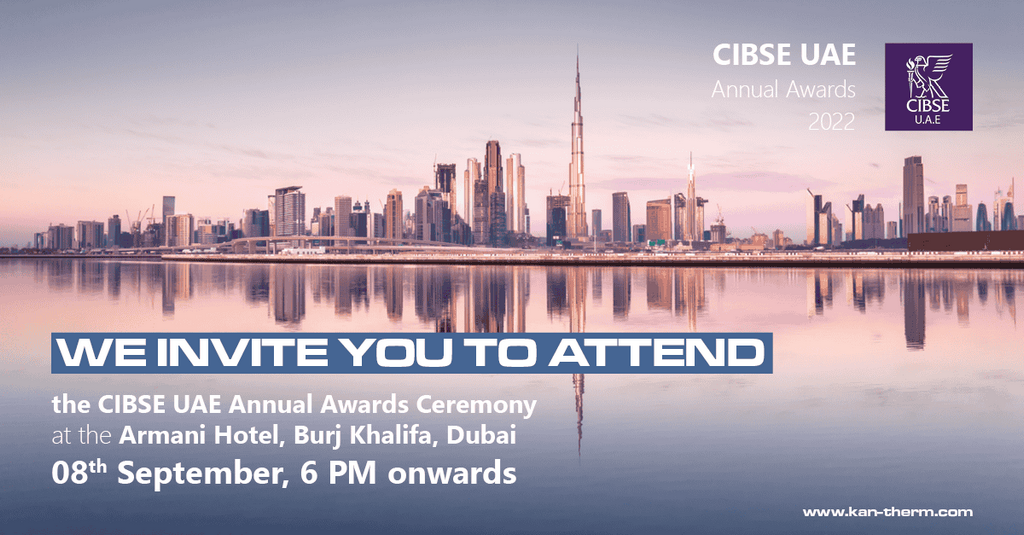 The Chartered Institution of Building Services Engineers (CIBSE) is the professional body that exists to advance and promote the art, science and practice of building services engineering, and to support the community of built environment professionals in their pursuit of excellence. CIBSE UAE is the only regional representation of this engineering body in the Middle East and serves as a connection between the main body in the UK and the other regions across the world.
The CIBSE UAE Annual Awards Ceremony is aimed at celebrating the achievements of the building services industry in the region and to showcase best practices followed by building service engineers in the UAE. As part of this year's celebrations, newly-elected CIBSE President - Kevin Mitchell and CIBSE CEO - Ruth Carter will preside over the event.
We are really proud that KAN-therm Middle East FZE received an invitation to that fabulous event, won a chance to present KAN-therm products among the best branch professionals and demonstrate organization's leadership as a workplace that incorporates best practices to deliver high-performance installation systems in the region.
Join this face to face event September, 8th at The Armani Hotel, Burj Khalifa in Dubai, UAE, 6 PM onwards or follow us on LinkedIn and Facebook to be a part of international gathering of the best branch representatives.