Although surface heating systems are becoming increasingly popular among investors, standard radiators are still used in many homes. The common denominator of both is, of course, concern for the thermal comfort of the occupants. But what are the differences? What to look for when choosing a solution?
Economy and efficiency
Surface heating installations belong to the low-temperature heating systems. What does it mean? The maximum heating water flow temperature is 55oC. Underfloor heating can be fed directly from low-temperature heat sources such as heat pumps or gas condensing boilers, and this can significantly reduce the running costs. Its versatility should also be emphasised. In the case of surface heating, even the most complex installation is possible using the KAN-therm System, which is due, among other things, to the availability of a wide range of pipe diameters, various insulation constructions or a wide range of installation accessories.
A further advantage is that it ensures an ideal distribution of temperatures in the interior – the floor gives off heat evenly over the entire surface, which has a beneficial effect on the well-being of the users. It should also be mentioned that it guarantees less convective air movement in the room and thus reduces the amount of dust floating around. However, when installing underfloor heating, it is important to be mindful of potential barriers to the emitted heat, i.e. furniture or fixed building elements.
Warmer (or too warm)
What are the advantages of radiator heating? Installation requires less work while achieving greater thermal efficiency.
The supply temperature is around 60-80oC and the heating process itself is shorter than with underfloor heating. The downside, however, is that its effect on the warmth in the flat depends largely on the size of the radiator itself, and as it size grows, the more it dominates the arrangement of the space.
It is ideal to use both types of heating within one investment. This is a possible and often practised solution.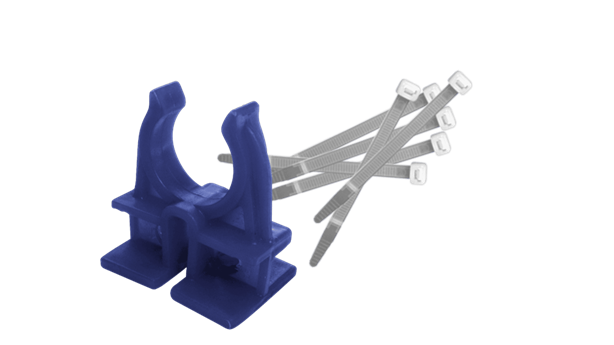 This type of radiator and underfloor heating system can operate while being powered by a single heat source allowing to set either high or low temperatures. In the case of the former, it will be necessary to lower the parameters for the underfloor heating system circuit. This is where KAN-therm pump mixing systems are helpful and can handle the task perfectly.
Traditional radiators, although still finding their way into a number of developments, are slowly giving way to more efficient, environmentally-friendly surface heating systems. However, the right choice of the perfect solution depends on a number of variables, the most important of which is thermal comfort. And defining it is a rather subjective matter.